I had already watched a lot of YouTube and i know it must be a spinning wheel with 2 folding treadles. The spinning wheel had to be compact and light. It is also nice if the wheel doesn't make to much noice, while spinning. Scotch tension for precise tension adjustment. What i also think is important that while pedaling that your feet and your knees do not move to high. Tree speed whorl flyer ratios are standard on the most spinning wheels. Of course i can buy a secound hand wheel, but i must know how a spinning wheel works and those YouTube videos are good for discovering and learning. After talking with the ladies of the spinning group and my wish list in mind i bought an Ashford Kiwi 3.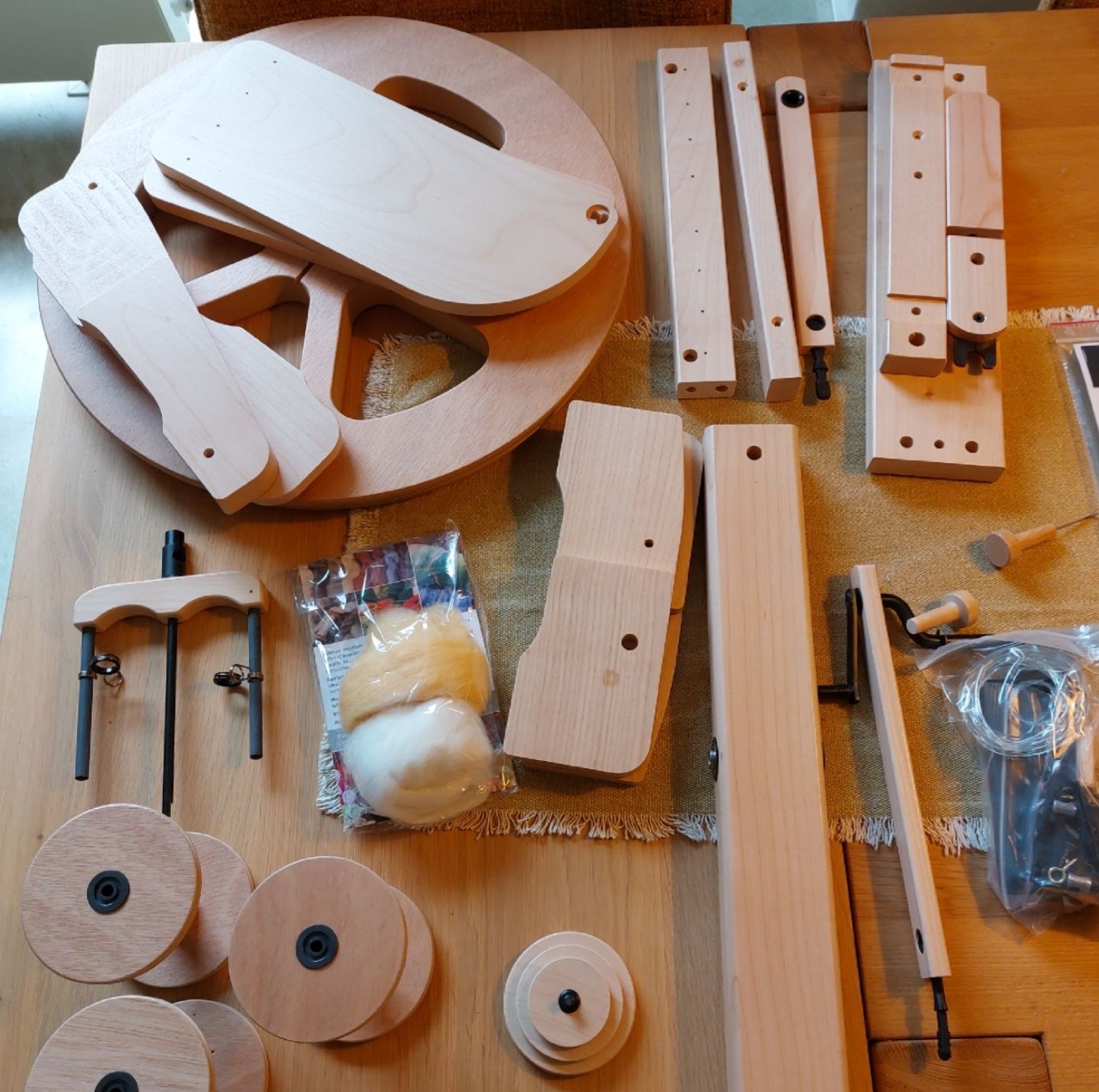 I still had to put the kiwi together and with my best friend (YouTube) i succeeded after half an hour. How am i going to learn this spinning on my Kiwi?.
In the shop were i bought the Kiwi there are try-out afternoons on the third of the month, In the shop i could try out many different wheels and luckily there were a number of Ladies who were spinning on their own wheel and could tell their experiences. When i was there i could also hear the wheels if they didn't make to much noice, because i prefere a quiet wheel.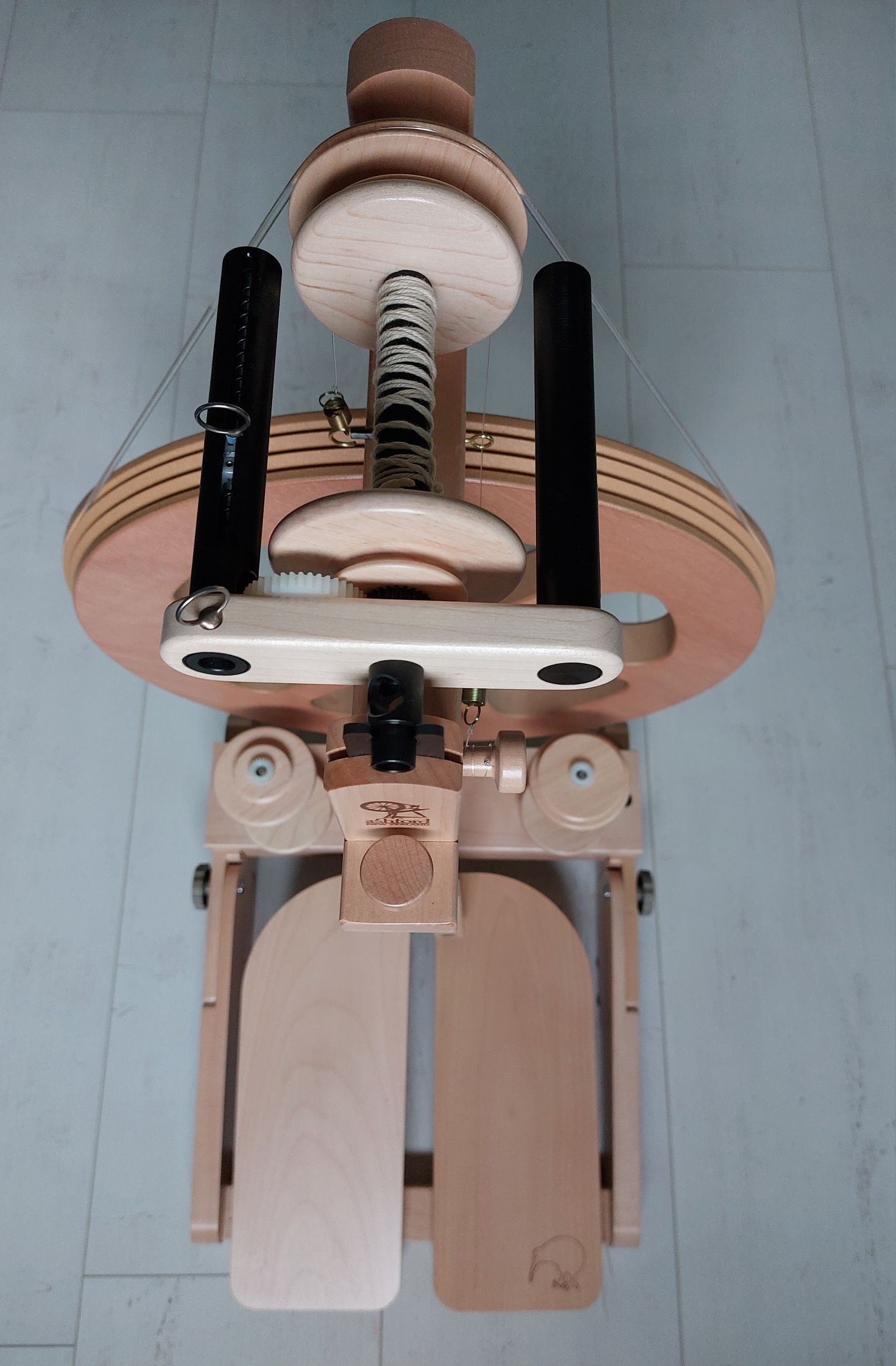 I tried the Kiwi and it was a complete disaster. Pedaling went too fast, the wool thread snapped. The tread didn't go aroud the spool. My friendly neighbor gave me some "encouraging advice". That spinning could not be learned quickly in an afternoon, i understood now, that you first have to learn pedal.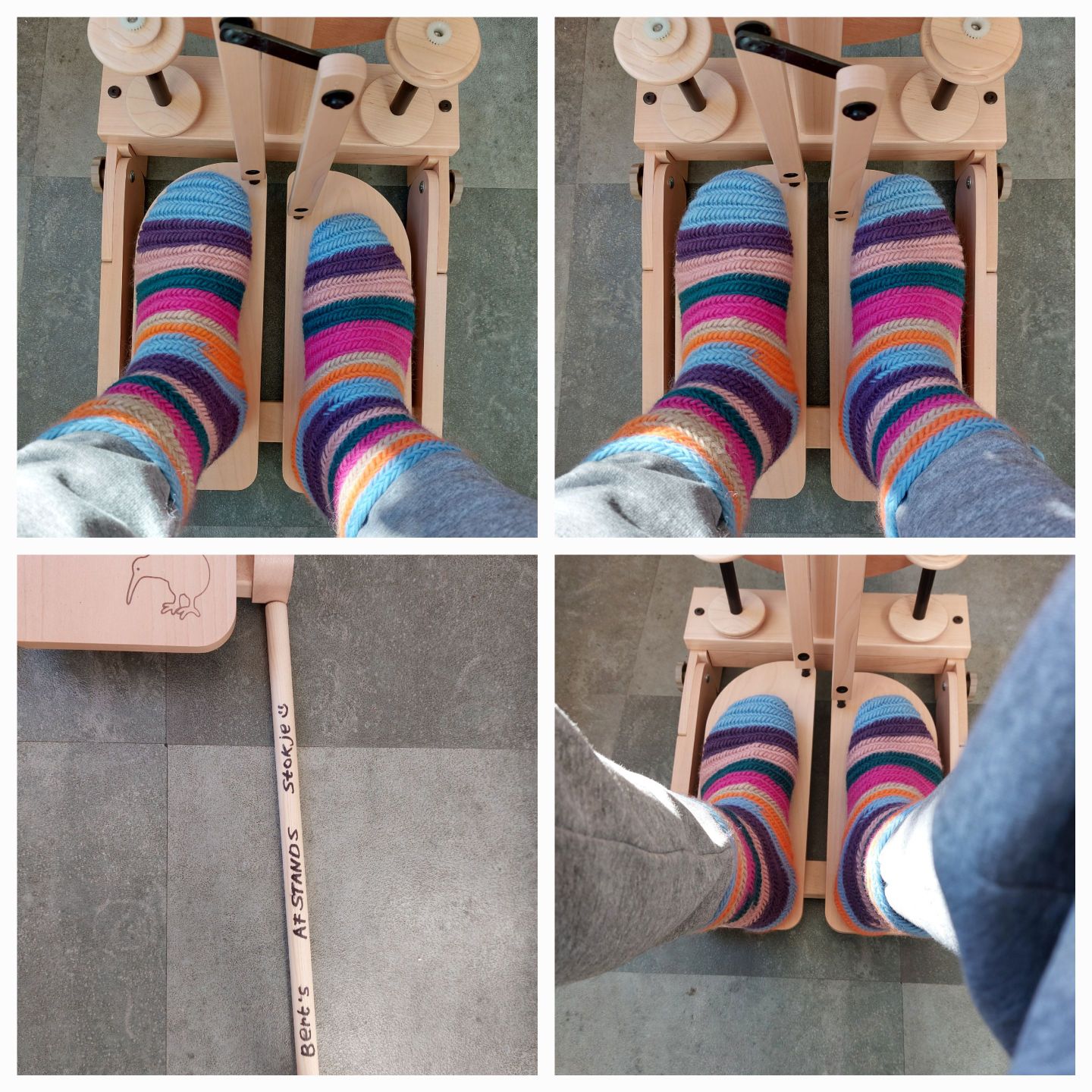 So you have to pedal slowly and regularly at first. then a lot of questions pop up in my head. "Which chair is suitable" ?, "what is the distance between me and the wheel"?, "where do i put feet on the pedale?", "With my bare feet "?. I have an old oak kitchen chair in my studio, the legs of which i sawed off an inch and it fits perfecktly. Often chairs are just a bit to high, so the blood circulation in me legs are not optimal and then i get cold feet. My chair problem is solved and by pedaling i don't get cold feet anyway. I practiced the distance of the wheel and me for a while. The right distance is 32 cm and i made a spacer stick so i don't have to measure it next time. I like to know things exactly, approximately, probably isn't my cup of tea, and then there was the question of where on the pedals do i put my feet?. Determining exacly where to put my feet on the pedals took much longer than determining the distance from the wheel to my chair. In the picture below right i put my feet and that goes well. So i know the place of the foot but do i press the pedals with my heels or my toes, that was my new question. I discovered after a while that when i spin slowly and evenly i apply pressure with my whole feet.
I practiced pedaling for half an hour almost every day for 2 week and then a week with stopping and start spinning to the left and to the right. I think that spinning wool means that my feet are on autopilot and my hands could now needlebinding in my case. Now my feet are on autopilot and i will continue to learn how to spin 🙂
After a few weeks only treadeling on my Kiwi, is this my first spun wool.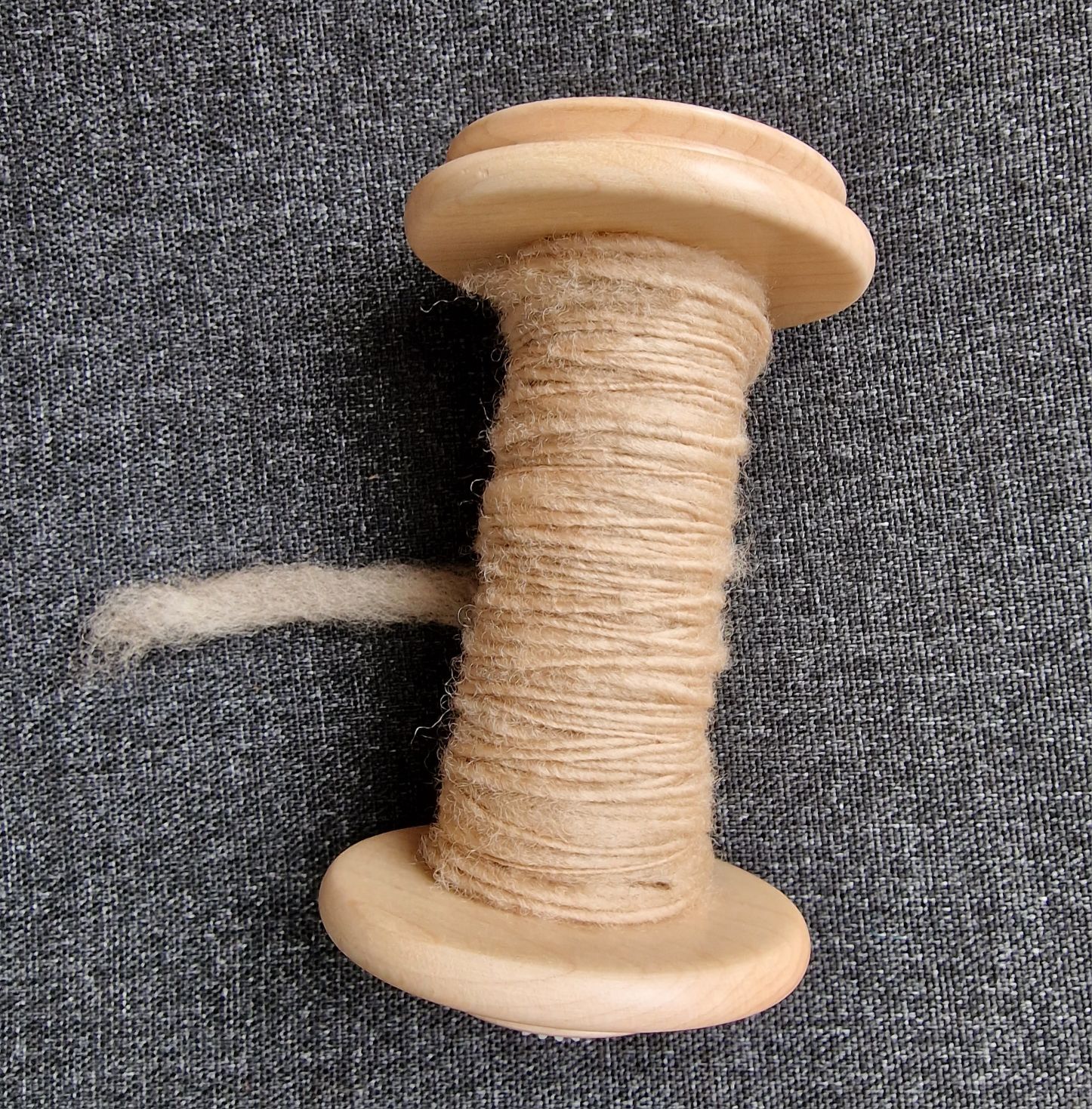 This is wool that i will ply with another spool with my Ashford Lazy Kate, see if this will work.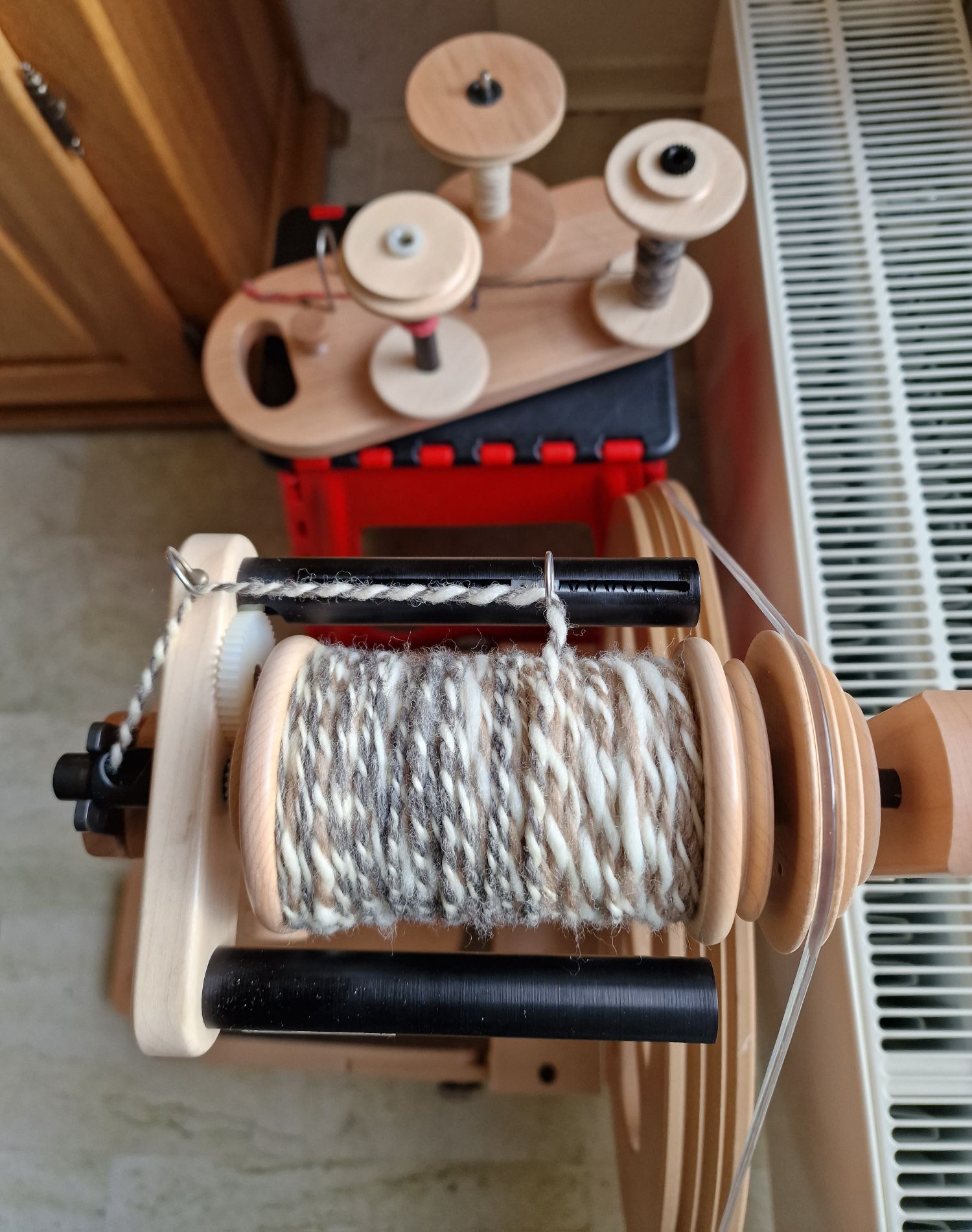 This went very nice, and then it was time for the Niddy Noddy.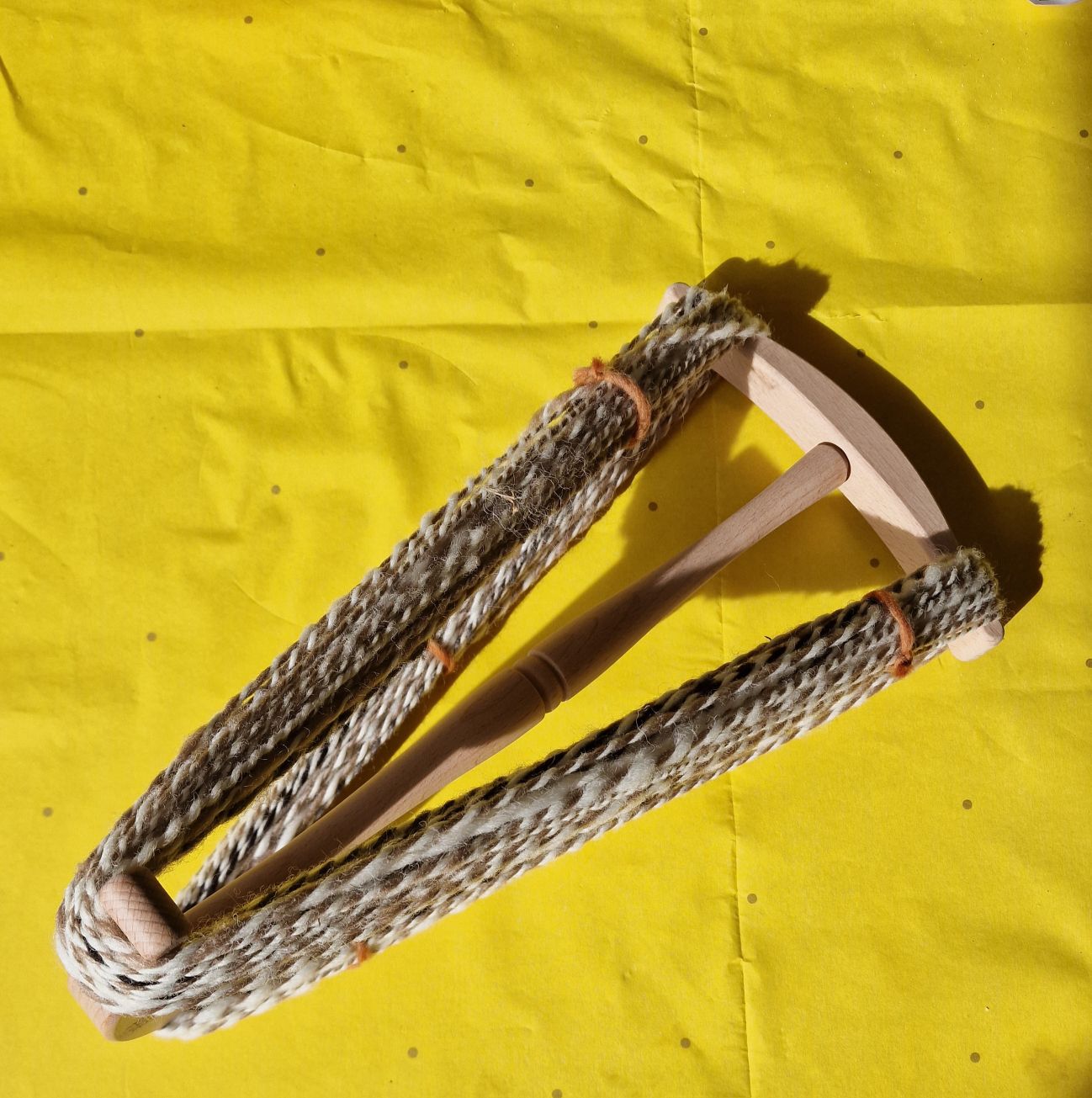 After the wool has dried i knotted it into a skein.